Eurasia Sees Zambia Default Risk Rising as IMF Loan Talks Stall
By Robert Brand (Bloomberg)
Kwacha weakens to four-month low, Eurobond yields soar

Zambia seen vulnerable to shocks from metal prices, drought
Zambia's currency extended its decline to a four-month low against the dollar and its Eurobond yields soared as loan talks with the International Monetary Fund stalled amid concern the country is under-reporting its external debt.
The kwacha weakened 0.8 percent to 10.034 per dollar Friday, bringing its decline in the past two weeks to 5.9 percent. Yields on $1.25 billion of 2027 Eurobonds climbed 12 basis points to 9.43 percent, the highest since December 2016. The yield has surged 246 basis points from a record low in January.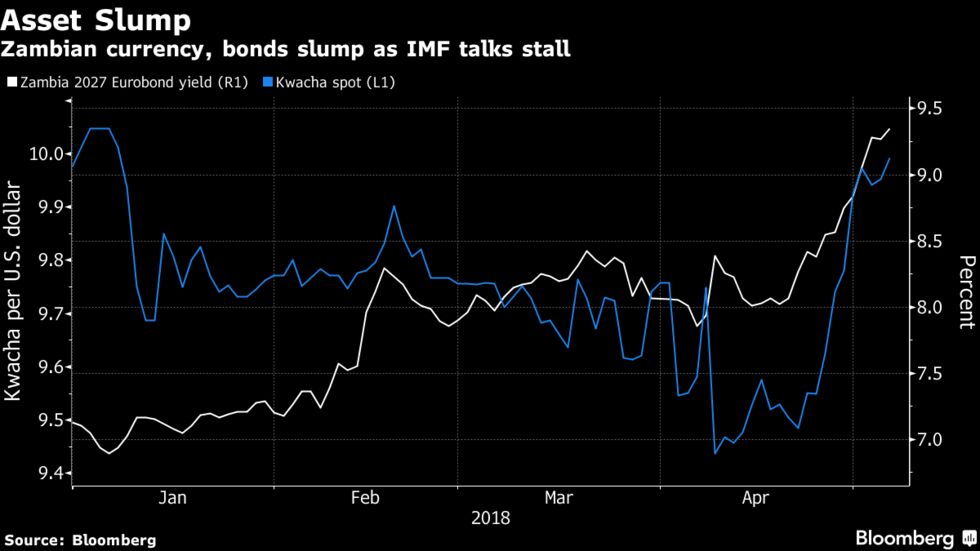 Negotiations with the IMF over a long-delayed $1.3 billion loan are unlikely to produce a deal before the end of the year, Ty McCormick, an Africa analyst at Eurasia Group, wrote in a client note dated May 3.
Here are some of Eurasia's views on Zambia:
"External debt is likely higher than the official $8.7 billion figure; a planned review of the situation has been delayed and the results may not be made public"
"The risk of default is low in 2018, but will increase substantially in 2019 and 2020 absent a concerted effort to cut spending" and an IMF program
"President Edgar Lungu's cash-strapped government has resisted the IMF's calls to rein in spending. Lungu will probably continue to borrow and spend in the lead up to the election" in 2021
Debt figures "will likely be revised upward after the Finance Ministry completes its debt sustainability analysis," expected in June

"Nonetheless, this is not a Mozambique-style 'hidden debt' situation;" rather a "breakdown" of the debt-tracking process as individual ministries and parastals secured project financing

"Rising copper prices will provide a small cushion in the short term, but the government remains highly vulnerable to external shocks such as a slump in commodity prices or a drought that dents hydropower production and in turn hurts the mining sector"
Eurasia is an international firm devoted exclusively to helping investors and business decision-makers understand the impact of politics on the risks and opportunities in foreign markets. It is Headquartered in New York, with  offices in Washington and London, as well as a vast network of experts around the world.